Principal
Jennifer L. Goodwin, CPA
Growing up in Papua New Guinea
As a CPA, business consultant and technical specialist, I bring more than a strong set of credentials to my trade. What I do today is deeply rooted in a set of core values that were imparted to me early on in my childhood while growing up in Papua New Guinea. As the eldest child of a missionary family I have been imbued with a strong sense of loyalty and a deep respect for truth and integrity.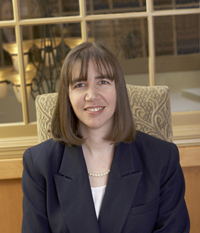 Also, because of an international upbringing, I have been given an insight and respect for other cultures helping me relate well with other people. Furthermore, the time living abroad has given me an appreciation for the freedoms and opportunities that the United States offers.
Rewarding Moments
For me the most rewarding moments are when I see my clients' sudden realizations of the multitude of possibilities that exist in their businesses and their markets.
Do unto others…
Finally, any one who knows me or has worked with me for any length of time knows how much I regard my relationships whether they are professional or personal. My clients know my deep level of integrity and that I hold their best interests at heart. If this kind of business relationship is right for you then I invite you to call today. I look forward to hear form you.
Educational Background
• New Tribes Mission High School, Papua New Guinea
• Associates Degree in Accounting, Heald Business College
• Bachelors Degree in Business Administrations, Marketing,
Cal State – Hayward
• Certified Public Accountant – State of California

Privacy Policy | Terms of Use | Contact | 925.788.5314

Copyright © 2005 Jennifer L. Goodwin CPA, All Rights Reserved.