Management Advisory Service
Empowering owners with financial knowledge
I provide an in-depth evaluation process of the financial statements with owners and managers looking for ways to leverage efficiencies on all streams of income and their related expenses. I use trend analysis on a year-over-year basis to uncover trends and catch problems in their early stages before they adversely affect the bottom line.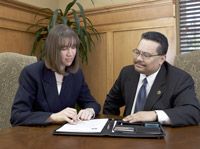 Based on past financial performance, management can see the effectiveness of past investments and expenses related to each income stream of their business operations. I also conduct a thorough analysis of general and administrative expenses showing management how they affect the bottom line, and advise them about adjustments that can be made to improve future performance.
Gain a clear picture of the health of your business
In essence I can give owners and management a clear picture of the health of their businesses as well as advise them where the allocation of resources and future investment will yield the best results.
Items evaluated for management:
Evaluate books for accuracy
Reclassify any entries for analytical integrity
In-depth analysis of income statement to determine profitability
Analyzing the costs in relation to each stream of income
Evaluate general & administrative expenses
Unearth trends with year-over-year financial analysis

Privacy Policy | Terms of Use | Contact | 925.788.5314

Copyright © 2005 Jennifer L. Goodwin CPA, All Rights Reserved.